About us – Om oss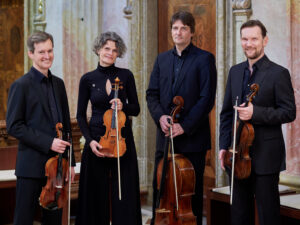 The Lerchenfeld Quartet was founded in 2017 by four musicians with both interesting and very diverse musical backgrounds in the area of Lerchenfeld in Vienna. The diversity has created an exciting and dynamic performance style which is a prerequisite to present music at the highest level.
In addition to every member's competence within the quartet all of them have additional backgrounds which particularly enrich the work together. One has a degree in solo piano, the other is a baroque player, the third is a trained singer and the fourth a sought-after musician for contemporary music.
The driving force lies in the music and the common spirit of making music together. The soul of the sound of the ensemble is carefully taken care of to meticulously match the characteristics of every single string quartet the group decides to perform. It is exactly this homogeneous sound which is central to the musical language.
With Vienna as their base they have a natural connection to Austrian music of all ages. The repertoire of the Lerchenfeld Quartet embraces all musical eras from the well-developed classical style of Haydn, the philosophical 'absolute music' of Beethoven all the way to modern music.
In our time with enormous possibilities to listen to music through different technical platforms the Lerchenfeld Quartet clearly demonstrates the importance of experiencing music live. A live concert offers the listener to take part in a musical voyage, an adventure with all its dimensions and emotions. A live concert gives listener impressions which last forever. Emotions of this kind are sensitive responses that give life meaning!
Lerchenfeldkvartetten grundades 2017 i området Lerchenfeld i Wien av fyra musiker, alla med intressant och väldigt olika musikalisk bakgrund. Just denna breda bakgrund har skapat en spännande och dynamisk stil hos kvartetten vilket också är en förutsättning för att presentera musik på högsta nivå.
Utöver varje medlems kompetens i kvartetten har var och en ytterligare egenskaper som särskilt stimulerar det gemensamma arbetet. Den ene är diplomerad solopianist, den andra barockmusiker, den tredje är utbildad sångare och den fjärde är efterfrågad för nutida musik.
Den drivande kraften ligger i musiken och i det gemensamma behovet att musicera tillsammans. Själen i ensemblens klang vårdas minutiöst för att exakt stämma överens med karaktärerna i varje verk de väljer att framföra. Just kvartettens egna homogena klang är central när det gäller tonspråket.
Med Wien som bas har de en naturlig koppling till österrikisk musik från alla tidsåldrar. Lerchenfeldkvartettens repertoar omfattar alla musikaliska stilar; från den välutvecklade klassiska stilen hos Haydn, den filosofiska "absoluta musiken" hos Beethoven, hela vägen till modern musik.
I vår tid med enorma möjligheter att lyssna på musik med hjälp av olika tekniska plattformar demonstrerar Lerchenfeldkvartetten tydligt vikten av att uppleva levande musik. En konsert erbjuder lyssnaren att ta del av en musikalisk resa, till och med ett äventyr med alla dess dimensioner och känslor. En konsert ger lyssnaren intryck som består för alltid. Upplevelser av detta slag är känsloladdade reaktioner som ger livet mening!
Get in touch
Give us a call
+43 699 12583361